ONLINE NEWSLETTER:
ARCHIVES:
Access All Mark Satin Articles, 2005- 2009
Access All Mark Satin Articles, 1999- 2004
Access John Avlon Archive, 2004-2006
RESPONSES FROM OTHERS:
Feisty E-mails to the Editor, 2008 - 2009
Feisty E-mails to the Editor, 2007
Feisty E-mails to the Editor, 2006
Feisty E-mails to the Editor, 2005
Feisty Letters to the Editor, 2002-04
Feisty Letters to the Editor, 1999-2001
WHO WE ARE:
About the Editor (In-House Version)
About the Editor (By Marilyn Ferguson)
About Our Sponsor, the Center for Visionary Law
RADICAL MIDDLE, THE BOOK:
SOME PRIOR BOOKS BY MARK SATIN:
New Options for America (book drawn from New Options News- letter, 1983-92)
New Age Politics: Healing Self and Society, 1976
CONTEXT (FROM WIKIPEDIA):
64 Press Clips (and Blog Snips)
. . . about Mark Satin's book Radical Middle: The Politics We Need Now (Westview / Perseus, 2004)
February 2004 - June 2005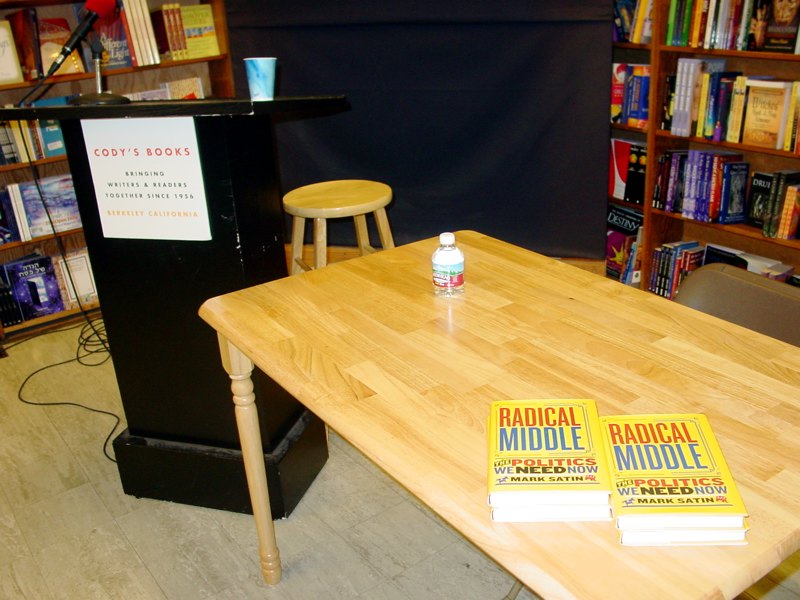 "In the dark night of the soul, it is always four o'clock in the afternoon." Just-published book awaits author -- and audience -- and reviews -- at the fabled Cody's Books-Telegraph Avenue in Berkeley, CA. Photo generously donated to this website by Ernest Prabhakar, founder of the Radical Centrism site.
rule: About 50 words per clip (or snip)
"Mark Satin has spent his life advocating for peace and social change. While his values have remained constant, his strategies have evolved with life experience. [Recently] he has helped lay the groundwork for a radical centrism that may finally be taking hold in the U.S."
-- Charles Adler, Earth Action Index [website], February 22, 2004
"Despite the occasional lapse, this book is moderate in tone and intelligently reasoned -- shockingly so. . . . Satin has identified an emergent political class, one that eschews ideology for pragmatism. . . . [His] most provocative ideas combine a leftist concern for the commonwealth with a conservative instinct for individual responsibility and self-reliance."
-- Gadi Dechter, Baltimore City Paper, February 25, 2004
"Don't vote in the November 2004 elections until after you have read this book! . . . The agenda we [Cultural Creatives] aspire to, the nuts and bolts of what defines the radical middle, are distilled and explained in Mark Satin's book. . . . We model more after Benjamin Franklin than after New Age illusionists or antiglobalists. . . ."
-- P.M.H. Atwater, NDE-Related Marketplace [website], March 2004
"We're in for a bruising political battle between Kerry and Bush. . . . In the course of that, sensible solutions to the nation's worst problems will often be overlooked because of the ideological blinders of each side. Satin's book shows a way to a more humane, common-sense politics. It's already won praise from James Fallows and others."
-- Arthur S. Levine, Art Levine Confidential [weblog], March 1, 2004
Levine is a Contributing Editor of the Washington Monthly.
"A reformed leftist -- that is, an older leftist -- now stakes out an extreme position in the middle. . . . Here's another kind of public policy, not learned from Washington or Jefferson, but in the mode of Ben Franklin. . . . [M]akes a lot more sense than . . . the many braying pundits at the edges of the national parties."
-- Kirkus Reviews, March 1, 2004
"Politics on the edges: is it time for the middle to say, Enough? . . . It is time for the middle to flex its might! . . . We are talking with the author of Radical Middle. . . . Mark joins us from Washington DC where he works and makes his home. . . . I [found] the book very interesting and very provocative. That's why I wanted to have you on."
-- Simply Put Show, Bloomberg Radio Network, March 7, 2004
"Radical Middle is one of the most refreshing political books I've ever encountered. It [emphasizes] that change begins with each of us. . . . Satin is the perfect antidote for the nastiness and attack dog mentality of [pundits like] Ann Coulter. . . . [M]ust-reading for those who are trying to find a ray of sanity in our present political climate."
-- Larry Cox, Tucson Citizen, March 18, 2004
"We need more [liberal] smashmouth on American talk radio to balance out the ideological spectrum. . . . I just think we need some balance. . . . People aren't gonna listen, right away, to super-centrist radio, like Mark Satin with his book Radical Middle. That's something that we need to get to down the road."
-- Matthew Felling of the Center for Media and Public Affairs (interviewed by CNN news anchor Fredricka Whitfield), CNN Saturday, March 27, 2004, 12:25 p.m. ET
"'Turn off the O'Reilly Factor. Take Al Franken's book . . . back to the bookstore,' writes Satin. . . . Here Satin offers a 'radical middle' path with concrete policy suggestions -- including universal health care that's not government-run, affirmative action for the economically disadvantaged of every race, and a financial nest egg for everyone."
-- Marjorie Kelly, Business Ethics Magazine, Spring 2004
". . . . Does politics have to be this way? No. According to Mark Satin, . . . largely outside the traditional social change movement -- in the professions, in local communities, even in the U.S. Congress -- caring people have begun coming up with creative, practical, and inclusive new solutions [that] amount to a principled new politics."
-- Ralph S. White, New York Open Center Bulletin, Spring / Summer 2004
"Passionate, popularized, and personalized, with frequent asides about Satin's background in antiwar activism, new age politics, and law school. Many ideas here, some familiar and some not. . . . Mandatory national service . . . will surely infuriate the right, while [the author's] views of biotech . . . will turn off the left. . . . [A] fresh and often original voice.
-- Michael Marien, Future Survey, April 2004
"Condemning what the author sees as the divisive partisanship and polemical half-truths of liberals and conservatives alike, this militant . . . manifesto urges left and right to unite behind a 'politics of creative problem-solving.' Satin, publisher of Radical Middle Newsletter, aims to achieve great public purposes without aggrandizing government."
-- Publishers Weekly, April _, 2004
"Satin now believes . . . both left and right have legitimate concerns [and we must create] a new synthesis. . . . From the right he has absorbed the critique of big government and the recognition that capitalism is more efficient than socialism. From the left he [has retained] lifestyle freedom and extending opportunity across social classes."
-- Rick Heller, Centerfield [weblog], April 14, 2004
"He has also one of the -- excuse me, Mark, I have to say it -- Zelig-like [personal] histories. . . . Mark arrived at the radical middle having spent a deal of time on the outside [of society] -- well on the outside -- [found] his way to law school, and from there he arrived at the radical middle. . . . Your life is the story of the second half of the 20th century!"
-- John Batchelor, The John Batchelor Show, ABC Radio Networks, April 14, 2004
"A conference titled 'Declarations from Independents,' hosted by the Kennedy School's student-run Independent Caucus[, featured] the author of Radical Middle, Mark Satin; the former independent governor of Minnesota, Jesse Ventura; and myself. [We were all] looking for a political alternative that reflects the reality of life in the information age."
-- John Avlon, New York Sun, April 15, 2004
Avlon is author of Independent Nation: How the Vital Center Is Changing American Politics (2004).
"At the suggestion of Paul (a friend in the legislature), I've just finished reading the new book Radical Middle.by Mark Satin. It's an excellent book that discusses new ideas which creatively and pragmatically use the best from both sides of the usual political divide. In other words, this is not just a try at getting extremists to meet halfway."
-- Jim Strasma, Man in the Middle [weblog], April 17, 2004
"Like his hero Ben Franklin, [Satin] uses his . . . skills to shape the emerging consciousness of a nascent movement. [I find his work] painfully refreshing. Refreshing because it's grounded in common sense that's [also] visionary; painful, because it reminds me just how shrill yet insipid is what passes for politics [today]."
-- Dr. Ernie Prabhakar, Radical Centrism [weblog], April 25, 2004
"One of our readers wrote us recently that she felt a spiritual approach should never emphasize a political viewpoint. . . . But we see this differently. To us, politics is the sea we all swim in. . . . Disengagement is itself a political stance. . . . [Our] Visionary Leader of the Month [for May 2004 is] Mark Satin."
-- Corinne McLaughlin et al., Soul Light ["e-lightletter"], May 2004
"Satin . . . believes Americans are . . . seeking a politics of creative problem solving. . . . The book is intended to inform and energize [and includes many] suggestions to help readers implement Radical Middle values in society. . . . . [R]ecommended as a positive alternative for political science collections at both public and academic libraries."
-- Jill Ortner, Library Journal, May 1, 2004
NICE EXCERPT: "[T]he 'radical middle' ideas he champions [include] universal access to private health insurance, a universal system of national service, merit pay to attract and reward good teachers, stakeholder grants to expand the 'ownership class.' . . . Satin does a good job in laying out these 'third way' policies concisely, and his advocacy is more than welcome."
-- Ed Kilgore [policy director of Democratic Leadership Council], Washington Monthly, June 2004
NOT-SO-NICE EXCERPT: " . . . moved to Canada to avoid the draft [how about, 'to keep from killing Vietnamese people for no good reason & to continue working against the war'? -- M.S.] . . . became a New Age guru [Ommmmm . . . -- M.S.] . . . calls for a 'new politics' based on advocating 'third way' policies as though nobody has thought of them before [believe I cite / quote / praise over 100 authors & nearly 100 groups, including the DLC's own think tank -- M.S.] . . . insistence that these policies cannot be implemented by the conventional parties is just plain bizarre [saith the guru, p. 198, 'There is no reason radical-middle-oriented men and women can't win electoral office, in any political party' -- M.S.]."
-- Ed Kilgore [policy director of Democratic Leadership Council], Washington Monthly, June 2004
"I need to do things that will help me know my country beyond any one person's or group's opinions and perspectives. I need to honor both the good and bad things about the United States and how it is in the world. As . . . political philosopher and activist Mark Satin says, I need to avoid the extremes of right and left and find the 'radical middle,' which is the title of his new book. I need to probe my own relationship with my country and discover how mindful and deep that may be."
-- David Spangler, "Working with the American Soul," Lorian Association: What's New [website], c. June 2004
"Mark Satin's irritating Radical Middle is a timely clue to what gave liberalism a bad name. . . . Satin was for a few years a student radical, for a few years a blue-collar worker, and for a much longer period a corporate banker [! -- certainly would have helped me in the $$$ dep't -- M.S.]. That blend of insights allows him to perceive obvious solutions to almost everything. . . . Why do so many liberal preachments grate like glass shards on a blackboard? . . ."
-- Charles R. Morris, "What Works and What Doesn't," Commonweal, June 4, 2004
"Mark Satin, a one-time radical leftist[, says] there is a middle ground, comprised of people who want reasonable change, rejecting left and right but combining what is best from both ends of the spectrum. . . . It's time, he says, for a third way."
-- Robert Tanner, "Voters' Love-Hate Relationship With Political Parties," Associated Press wire service feature story, July 3, 2004
"Satin has appealed to me for a long time. More than 20 years ago, I picked up his New Age Politics and immediately decided Satin was a certified visionary. . . . [Radical Middle] starts with an overview of Satin's intellectual journey. . . . I suspect Satin's . . . discovery of the radical middle in American life has always been where most of us live."
-- Randy Dykhuis, The Yogadad Chronicles [weblog], July 5, 2004
"Ralph Nader . . . is insistent that there is little difference between the Democrats and the Republicans. Mark Satin . . . says the problem is that there ARE great differences between the two parties. . . . Neither party 'speaks for the American people as a whole,' he says."
-- FOXNews.com, July 5, 2004
"In American politics, we've had the silent majority, the far left, the far right, the neo-cons, the ultra-liberals, and now the radical middle. And just what is that? Earlier, I spoke with Mark Satin, an attorney and [author of the book Radical Middle], which aims to educate the American public about this new movement. . . ."
-- Tony Cox, Friday host, The Tavis Smiley Show, National Public Radio, July 9, 2004
This link provides a link to the audio version of the interview.
"Take a look at this significant new book. [It] is a breath of fresh air in this negative [Presidential] campaign. . . . The author [tells us] where all these radical middle ideas are coming from: 'Overwhelmingly, they're coming from busy, creative, and caring Americans like you and me.'"
-- Roger Staubus, E-Blogger [weblog], July 13, 2004
"I think this is one of the most important reads of the last five years . . . and it's easy to read."
-- Tony Trupiano, The Tony Trupiano Show, Michigan Talk Radio Network, July 20, 2004
"One champion of independent politics has laid out a detailed set of policy proposals. Mark Satin . . . says he draws his ideas from the best of what both the left and right have to offer. [He] sees what he calls radical middle politics as an innovation that's ideally suited to 21st century America."
-- Nancy Beardsley, "The New Face of America's Independent Voters," Voice of America newswire, July 27, 2004
In 1969 I was harboring members of the Weather Underground. Now I'm giving interviews to Voice of America. "Isn't life strange?"
"[N]onviolence and pacifism are the luxury of . . . those who don't have to deal with the challenging realities of practical governance. . . . Today's peace movement might do well to take this message to heart, as they have tended toward 'rants against the Bush administration' combined with 'pacifist rhetoric,' as political analyst Mark Satin puts it [in his book Radical Middle]."
-- Carter Phipps, "Is God a Pacifist?," cover story, What Is Enlightenment? Magazine, August-October 2004
"Mark Satin gives example after example in his book about groups that are working to make a difference by shedding the political, ideological divide that endangers us all. . . . All of us at CodeBlueNow! decided to be that 'radical middle' and invite ideas and participation from people all over this land."
-- Kathleen O'Connor, CodeBlueNow!: America's Health Care Voice [weblog], August 3, 2004
KAGAN: "Let's talk about . . . this idea of the radical middle. Isn't that kind of an oxymoron? How can you be radical and in the middle?"
UTNE: "Well, I think it's people who are really . . . passionate about rolling up their sleeves and being practical. . . . There's a lot of space in the middle. . . ."
-- As Mark Satin's name and the title of his book scrolled across the bottom of the screen, Nina Utne, CEO of Utne Magazine, was interviewed by CNN anchor Daryn Kagan about Utne's forthcoming article "The Radical Middle," CNN Live Today, August 24, 2004, 10:35 a.m. ET
"It is quite interesting what an aging draft-dodging activist leader comes up with after completing an NYU law degree. This book basically is a catalog of mostly workable solutions to the major issues of the day. And even better, it includes . . . organizations working to implement these ideas. . . . I'm going to add a few to my annual giving list."
-- Straz, "Solutions, Not Slams," Shades of Gray [weblog], August 28, 2004
"In his new book, which provided the initial inspiration for this article, Satin fleshes out pragmatic new policy ideas that stem from [four guiding] principles. . . . He is quick to stress that he doesn't necessarily have the right answers, and that his proposals are merely opening salvos in an ongoing debate over what constitutes radical-middle solutions."
-- Leif Utne, "The Radical Middle," Utne Magazine, September / October 2004
My book New Age Politics inspired an article in New Age Journal when Leif's mother and father were the editors there ("New Age Politics," April 1977, p. 36). Surely that wasn't three decades ago?
"Politics today has degenerated into one shouting match after another. . . . Mark Satin, author of the controversial book Radical Middle, has a better idea -- let's create a politics that appreciates the genuine and reasonable concerns of left AND right, and builds on them toward something new and appropriate for the 21st century."
-- Obadiah Harris, Philosophical Research Society Bulletin, September / December 2004
"'Outstanding Book Award 2004' -- Section on Ecological and Transformational Politics, American Political Science Association"
-- American Political Science Association, "Organized Sections Distribute Awards at 2004 APSA Annual Meeting in Chicago," September 2004
This is a PDF file. Scroll down to Section 26 to see the details of my award. No reproduction of my gorgeous black plaque with the gold trim & lettering, though (sigh -- so many of you contributed to my political growth -- you should all be able to enjoy that gaudy thing).
"The problem, as Satin sees it, is that the current political parties are ignoring the validity of any views but their own. . . . Democrats, Republicans, Libertarians, Greens have good ideas but are too stubborn to compromise. Satin's radical middle rises above the parties to find the best combination of policies that do what government is supposed to do: serve the people."
-- "What's Going On," AaronSnitzer.com [weblog], September 21, 2004
"Vermont's activism has a lot to do with its size. . . . '[I]t's impossible to escape the people you fight with[,' says Vermont historian Michael Sherman]. The upshot: an undercurrent of communitarianism that makes Vermont a breeding ground for a political movement that activist and editor Mark Satin calls 'the radical middle.'"
-- Clayton Collins, "The Vermont Approach," Christian Science Monitor, September 22, 2004
"The modern [radical centrist] movement . . . draws its inspiration from the book The Third Way by Anthony Giddens (1998). . . . Subsequent introductions to radical centrist politics include, most notably, . . . Ted Halstead and Michael Lind, The Radical Center (2001) . . . Matthew Miller's book The Two Percent Solution (2003) and Mark Satin's book Radical Middle (2004)."
-- "Radical Middle" entry, Wikipedia: The Free Encyclopedia [popular website], c. October 2004
"I personally feel that Radical Middle author Mark Satin has, while putting his fingers on the pulse of something, gone too far for many who would just like rational, reasonable debate over issues and some out-of-the-box thinking without throwing away the box. . . . Nevertheless, I think I've finally found the Mother Lode."
-- Barney Lerten, "Moderate in Wilderness Says: 'Eureka! I Found It!,'" Barney's BendBlog, October 10, 2004
"This is a good idea for a book. [It's] from Mark Satin, editor of the Radical Middle newsletter. It offers ways to create progressive changes like universal healthcare and affirmative action that use theories and agendas from both the Right and the Left. Can't we all just get along?"
-- Portland (OR) Mercury ("Portland's alternative weekly"), October 21, 2004
"I attended a presentation by Mark Satin at [Powell's Books in Portland OR] last night. One of those C-SPAN type events: intimate book store setting, attentive and intelligent audience, super articulate speaker. . . . Instead of coming off as apolitical, Mark comes off as intensely political, and radical, but not far left or far right -- reminds me more of Fuller in Grunch of Giants (like, how apolitical was that?)."
-- Kirby Urner, Grain of Sand [weblog], October 22, 2004
Don't know Kirby from Adam. Fascinating to see how an "objective" observer responds to one of your talks.
"Amid the inevitable wails from 'blue America,' I have heard a different call -- a call for moving away from the old, divisive politics of left and right. . . . Lofty rhetoric, and lofty ideals. Can they be met? 'Yes!' says Mark Satin, author of Radical Middle -- the book that has been billed as this movement's manifesto. . . . I got as far as page six before I began to suspect that what was coming was mostly a collection of reclad socialist ideas. . . ."
-- Sunni Maravillosa, "Radical Middle" review, Townhall.com [leading conservative website], November 2004
Talk about "reclad," this review -- by a young activist (and Ph.D. in psychology) -- reads like it came from some snide conservative magazine from the 1980s. Her blog, Sunni and the Conspirators, is a lot more interesting.
"You have a very fascinating and a very rich background. . . . I've been reading your book and I find it right on point on so many issues. . . . [It addresses] how we can break the Great Divide and come together as a nation and as a people."
-- Shelton Walden, Walden's Pond show, WBAI-FM Pacifica Radio, New York NY, November 28, 2004
"Radical Middle: The Politics We Need Now by Mark Satin dares to propose path-breaking solutions to everything from under-performing schools to looming terrorism without ever losing touch with the often complex facts on the ground."
-- Mike Liveright, "Radical Center 'Movement,'" WeMatter.com [website], c. December 2004
"Third wave, third way, triangulation. These are terms I think we'll hear more often in Australia this coming year. Mark Satin, the editor of radicalmiddle.com [and author of Radical Middle], recommends a third wave of books signaling the coming of [this] third great political worldview. . . ."
-- "Margo Kingston's Webdiary," smh.com.au / Sydney Morning Herald (Australia), December 3, 2004
"An eventful month. . . . We've been reminded afresh what it's like to live in a city, read the daily newspaper. . . . We met and had dinner with Mark Satin, author of the book Radical Middle -- recommended reading for all who are keeping a watch on the future."
-- Bill Dillon & Pat Watt, On the Road 2004 [web diary], December 14, 2004
"The radical middle deserves to be recognized as an important emerging political development that could reshape the way we think about public policy. If you believe we are more likely to be successful in meeting the future's challenges if we . . . integrate the best ideas from different positions into a higher common ground, you may already be a part of this emerging development."
-- Robert L. Olson, "The Rise of 'Radical Middle' Politics," The Futurist, January / February 2005
The year 2005 began wonderfully with this smart, sophisticated, 2,000-word "featured review" of Radical Middle in The Futurist, the glossy flagship publication of the World Future Society. The reviewer is co-editor of the anthology Environmentalism and the Technologies of Tomorrow (2004).
"[Newt] Gingrich's influence in the third way movement [has] brought on kudos from the likes of New Age 'philosopher' Mark Satin [who has] identified Gingrich as a top 'decentralist / globally responsible' [thinker]. An interesting paradox, that fits the odd decentralism of the Third Way. . . . Beyond that, Mr. Satin . . . is not the kind of man you expect to be praising [Gingrich]."
-- Steve Farrell & Diane Alden, "Third Way Contract," Independent American Party [website], c. January 2005
"Mark I. Satin ('95) has received the 'Outstanding Book Award 2004' . . . from the American Political Science Association / Section on Transformational and Ecological Politics. The award is meant to recognize a book of extraordinary merit in the field of transformational politics, in particular the politics [of] change on behalf of ideals that are democratic, ecological, and humanistic, published in the preceding two calendar years."
-- Office of Development and Alumni Relations, "Class Notes -- Class of 1995," New York University School of Law [website], c. January 2005
I do love my law school. But they found this out on their own somehow.
"California's premier radical centrist blog today named State Assemblyman Keith Richman (R-Granada Hills) as its 2004 Radical Centrist of the Year. [He was] the most productive moderate in a famously polarized California legislature. . . . As part of this honor, he will receive an autographed copy of Mark Satin's award-winning book, Radical Middle."
-- Chris Hahn, "Reformer of the Year," eMediaWire [electronic press release], January 10, 2005
"[W]ho would have guessed that U.S. Rep. Lynn Woolsey, D-Petaluma, is part of the growing radical middle? Probably not even Woolsey herself, but that's the view from -- where else? -- the Radical Middle, a political newsletter [and book] by Mark Satin. [Satin] says that a legislator can be considered radical middle if he or she supports legislation that draws on good policy ideas wherever they're found and is bold enough to address fundamental issues in creative ways."
-- "Radical Centrist," North Bay Bohemian, Santa Rosa CA, January 26, 2005
"Well-known individuals who call themselves centrists (or who are commonly described as centrists) include U.S. Senator John McCain, former independent Maine Governor Angus King, radio talk show hosts Alan Nathan and Dennis Prager, Ted Halstead and Michael Lind (authors, The Radical Center), former Attorney General Elliot Richardson, Mark Satin (editor, Radical Middle Newsletter), U.S. Supreme Court Justice Stephen Breyer, and U.S. Senator Lincoln D. Chafee."
-- "What Is a Centrist?: Centrist Resources," Advocates for Self-Government [libertarian website], c. February 2005
"Mark is one of the tireless fighters for the new politics of Radical Centrism. . . . His book . . . is refreshingly short on political philosophizing and long on real ideas, programs and organizations you can support. . . . Mark is one of the more visible characters in this young movement but his enthusiasm, what he calls 'idealism without illusions,' is infectious and genuine."
-- Jay Dean, "Radical Middle by Mark Satin," The Radical Centrist [weblog], February 23, 2005
"For those . . . seeking a way to transcend the bitter polarization of American politics this book is a breath of fresh air. . . . Satin gives us a blueprint for transcending both the hyperbole and the dichotomies, for discovering the ideas from various political perspectives that are good and true and useful."
-- "Radical Middle," The Beacon [bimonthly magazine], March / April 2005
"Rather than become a conservative, [Satin] became a centrist, but one of a certain kind . . . a caring person who, unlike many, would prefer to rethink all of his political commitments, from the ground up, [rather] than succumb to disillusionment or remain rigidly attached to beliefs discredited by his own experience. The power of the book is found less in the quality of the rethinking than in the example he sets."
-- Robert F. Bauer, "Radical Muddle," Perkins Coie's More Soft Money Hard Law [weblog], March 14, 2005
This is a pretty barbed review (see title & that last sentence above), but it does a great job conveying what my book actually says. I'll take that over naive praise anytime. The reviewer is Chair of the Political Law Group in the Washington DC office of Perkins Coie, one of the largest law firms in the U.S., and author of an insider's book about campaign finance law.
"In case anyone is interested in what I've been reading lately: . . . Deliver Us from Evil, by Sean Hannity (good) . . . Little Women, by Louisa May Alcott (very good) . . . The Prince, by Niccolo Machiavelli (excellent) . . . Radical Middle, by Mark Satin (excellent)."
-- "Books Recently Read," Man in the Middle [weblog], April 2005
"It is heartening to read that John Avlon is carrying the banner of radical moderation. Mark Satin's recent book, Radical Middle, gives a blueprint on how we as a country need to 'take the best from the political left and right and come up with something new that serves us all.' . . . More so than not, the answer will be found in the radical middle zone."
-- Ted John, "Ideologies," letter to the editor, Milwaukee Journal Sentinel, April 26, 2005
"Yesterday evening, The Yellow Line had a great meeting and conversation with John Avlon, author of Independent Nation, and Mark Satin, author of Radical Middle. . . . These two centrist writers / leaders are incredibly committed to advancing the cause of centrism and The Yellow Line is more than happy to join them."
-- Alan Stewart Carl, "Fighting for the Centrist Vision," The Yellow Line [weblog], April 27, 2005
"Control just keeps growing as the political side of the New Age movement expands. . . . Leftists are always yammering about what they say is control coming from religious voices, but they sure do like control coming from the government. Check out [Radical Middle. Satin] wrote New Age Politics, and other than a name change, it's the same old stuff."
-- Zuukie, discussant, The Illinois Leader [website], May 2, 2005
"Mark Satin [is attempting] to lead politics to a higher level of discourse. His concise commentary, mixed with several parts idealism, a good dose of realism, a touch of spirituality, and always heaps of common sense, is a welcome tonic in today's polarized political climate. [He is] an integral thinker bridging the deep divides of a new millennium."
-- "Politics Gets Inclusive," What Is Enlightenment? Magazine, June / August 2005, p. 29
"Slowly but surely the practice of law -- or at least the practice of some lawyers -- is beginning to change. The change is in the direction of practicing in a more holistic way, of lawyering with an ethic of care, and, as a recent popular book put it, of "law reform as if people mattered."1
1 Mark Satin, Radical Middle: The Politics We Need Now 47 (2004).
-- David B. Wexler, "Therapeutic Jurisprudence Review," Florida Coastal Law Review (Summer 2005)
I am thrilled -- RM's first citation in a law review! The author is the John D. Lyons Professor of Law at the University of Arizona.
"I spoke this afternoon with a man I interviewed on KLOS[-FM Los Angeles] in 1978: Mark Satin, author of New Age Politics. Even then, Mark struck me as an extremely bright fellow with a remarkable insight and understanding of the nature of politics and government. Last year, Mark released his latest book, Radical Middle. [And in] the last week, we've seen evidence of the 'middle' rising up. . . ."
-- Michael Benner, Ruts and Grooves [webzine], June 3, 2005
"Radical Middle . . . provides access to a whole world of fresh thinking instead of tired platitudes and negativity. . . . While I'm not sure I can buy Mark Satin's description [of the radical middle] as "emerging [and] coherent," it certainly is not just neutral or middle-of-the-road."
-- "Anti-extremism! Pro-sanity!," Oddman Out [weblog by retired Fortune 100 person], June 29, 2005
THE RADICAL MIDDLE CONCEPT:
50 Thinkers and Activists DESCRIBE the Radical Middle
50 Best Radical Middle BOOKS of the '00s
GREAT RADICAL MIDDLE GROUPS AND BLOGS:
Over 250 Great Radical Centrist GROUPS and Organizations
50 Great Radical Centrist BLOGS
SOME PRIOR RADICAL MIDDLE INITIATIVES:
Generational Equity and Communitarian platforms,1990s
U.S. Green Party's "Ten Key Values" statement, 1980s
RADICAL MIDDLE CONGRES- SIONAL SCORECARDS:
109th and 110th Congresses (2005-08)
RADICAL MIDDLE POLITICAL BOOK AWARD WINNERS:
MORE RADICAL MIDDLE BOOKS:
50 Best Radical Middle Books of the '00s
50 Best "Third Way" Books of the 1990s
25 Best "Transformational" Books of the 1980s
25 Best "New Age Politics" Books of the 1970s
NOT JUST RADICAL MIDDLE:
50 Current Political IDEOLOGIES
50 Current Political MANIFESTOS