"More fresh, interesting, and challenging ideas per page than any book I have read in years." -- Jane Mansbridge, Kennedy School of Government, Harvard University
"Outstanding Book Award 2004"
-- American Political Science Association / Section on Transformational and Ecological Politics
"An utterly pragmatic, yet innovative and idealistic, agenda for positive social change." -- Paul Ray, co-author, The Cultural Creatives [see entire quote below]
Radical Middle: The Politics We Need Now
By Mark Satin
a book from Westview / Basic / Perseus (2004)
I am the editor of Radical Middle Newsletter, a political newsletter whose web offerings you can see on both sides of this page.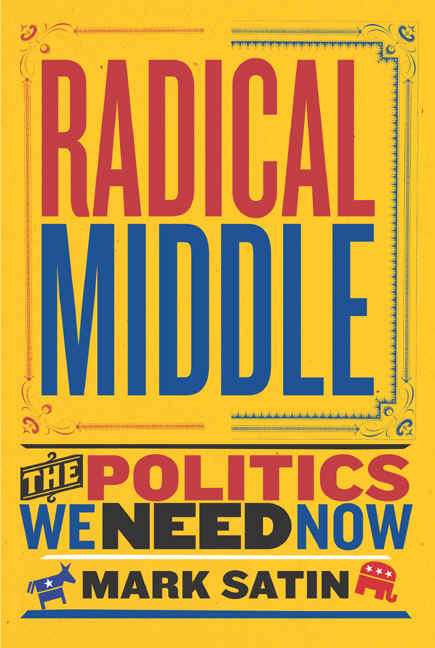 In 2004 my book Radical Middle: The Politics We Need Now was published by Westview Press and then obtained by Basic Books, both of the Perseus Books Group. Although many fine books with a radical middle perspective are out there now (see 25 Best Radical Middle Books of the 2000s), mine has five special strengths:
-- It is a popularization, not a work of high political theory or detailed public policy. It should be accessible -- even enjoyable -- to any caring person;
-- It is the first truly comprehensive introduction to the radical middle political perspective (outlines what I think of as our Four Key Values and discusses nearly every major domestic and global issue of our time);
-- It is the first truly comprehensive introduction to the radical middle political movement (covers everything from doing "good work" in the professions, to collaborative approaches to community organizing, to radical middle approaches to political reform, and highlights over 50 organizations doing the work of the radical middle);
-- It represents a truly collaborative effort. Nearly 80 thinkers and activists are profusely thanked in the acknowledgements;
-- It is often quite personal in content and tone -- as it should be, since radical middle politics comes from the heart as well as the head.
You can purchase Radical Middle: The Politics We Need Now from your local bookstore -- and please urge them to order more copies while you're at it! Or you can order the book at amazing discounts through Amazon.com (click HERE) or BarnesandNoble.com (click HERE).
If you'd like to learn more about the book, I've included nine special sections for you here. Just click on them -- or, even simpler, just scroll down this page and you'll come to each of them in turn:
A. Author's Dust Jacket Description
C. Comments from 21 Authors and Activists
D. The "Radical Middle100": Groups Mentioned in the Text
E. Preface to Book ("Ignore the Noise")
F. Author's Publicity Schedule
A. Author's Dust Jacket Description
Although the publisher's marketing department decided to go with its own dust jacket description (one more suited for a mass audience), I thought you might enjoy the description I submitted:
BOOK DESCRIPTION (207 words). For left flap of dust jacket
Politics today has degenerated into one shouting match after another. If it isn't Democrats against Republicans, then it's the Al Frankens of the world against the Bill O'Reillys. The overheated rhetoric may be entertaining. But in the process, real opportunities – to achieve everything from universal, preventive health care to deep corporate reform to energy independence – are slipping away.
Does politics have to be this way? No. According to this smart and unabashedly positive book, millions of caring people are coming up with inclusive new solutions to our problems (and collaborative new ways of working on them) that amount to a whole new politics – radical middle politics.
Instead of playing the usual blame games, the radical middle appreciates the genuine and often very reasonable concerns of the left and right – and builds on them toward something new. Instead of being some mushy middle, the radical middle is both visionary and realistic. It dares to propose path-breaking solutions to everything from underperforming schools to looming terrorism without ever losing touch with the often complex facts on the ground.
Radical Middle will show you what you can do to make our politics less like schoolyard combat and more like an expression of the practical and creative people that we are.
AUTHOR BIO (70 words). For right flap of dust jacket
MARK SATIN is editor of Radical Middle Newsletter, one of the nation's most cutting-edge political periodicals (www.radicalmiddle.com). He is also an attorney. His articles have appeared in publications ranging from Esquire to Whole Earth to Annual Survey of American Law. A political activist from the age of 13, he has long been engaged with many of the people, groups, and ideas he writes about here. He lives in Washington, D.C.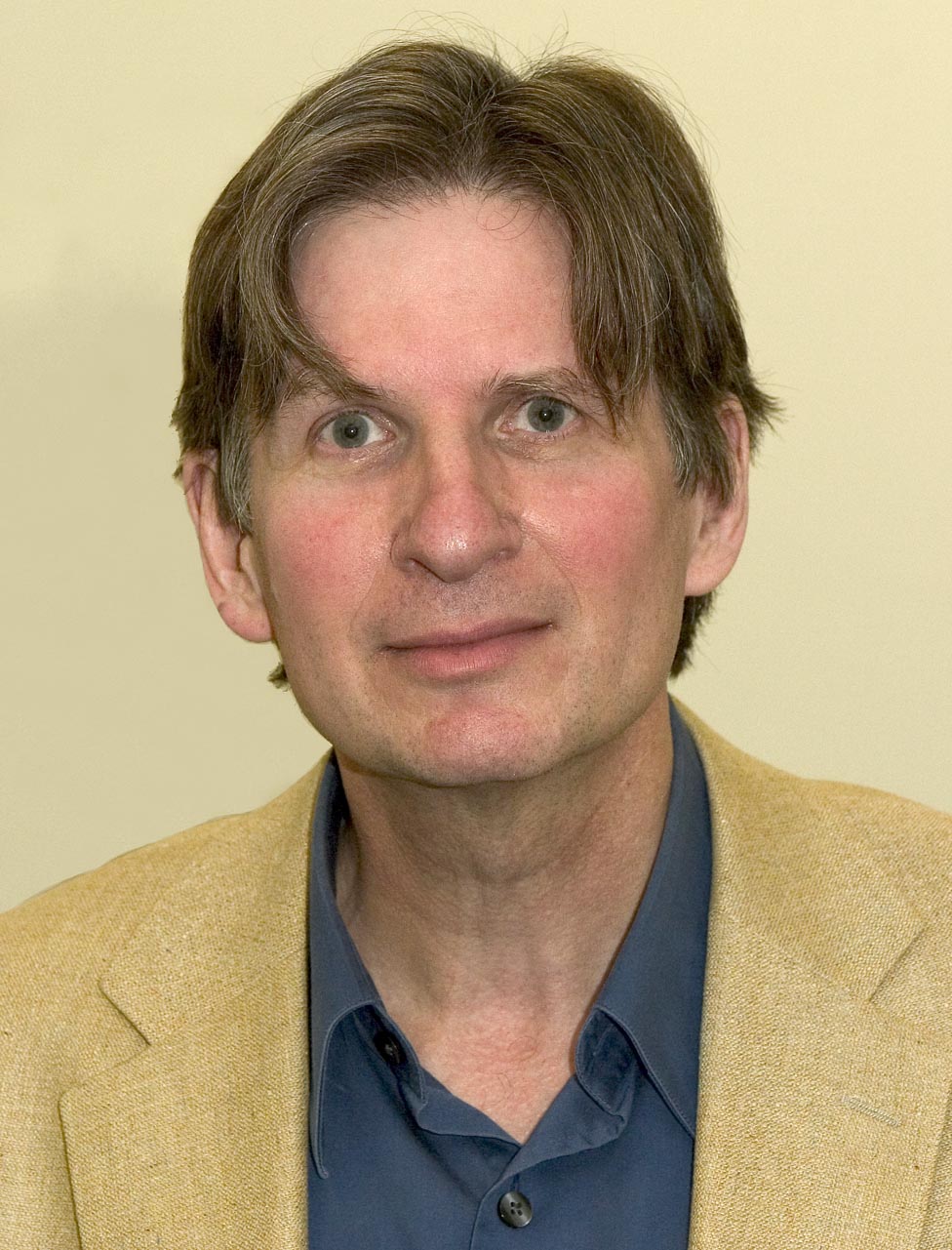 [Author taking questions at Fall for the Book Literary Festival, Fairfax VA, September 21, 2004. Photo kindly donated to this Web site and the public domain by Richard Mallory Allnutt, www.rmallnutt.com.]
B. Table of Contents
You can get a good sense of the scope of the book just from the Table of Contents, below. Although some of the chapter titles may remind you of articles in the newsletter, the book is actually VERY DIFFERENT from the newsletter both in content and tone. The book is at once more thorough and more personal. And thanks to the help of my wonderful, far too modest, and award-winning editor, Jill Rothenberg, it couldn't be easier to read.
Preface. Ignore the Noise, ix
PART ONE. THE EMERGING NEW POLITICS
1. A Creative and Practical Politics, 3
2. The Caring Person, 11
3. Journey to the Radical Middle, 21
PART TWO. MAXIMIZE CHOICES FOR EVERYONE
4. Universal, Preventive Health Care: Too Sensible?, 35
5. Law Reform as if People Mattered, 47
6. How To Stop Being Dependent on Oil, 57
PART THREE. GIVE EVERYONE A FAIR START
7. Great Teachers, Great Teachers, Great Teachers, 69
8. Affirmative Action for the Truly Disadvantaged - of Every Race, 81
9. Jobs for Everyone. A Financial Nest Egg for Everyone, Too, 91
PART FOUR. MAXIMIZE HUMAN POTENTIAL
10. Corporations We Can Be Proud Of, 103
11. Long Live Biotech -- with Adult Supervision, 115
12. Bring Back the Draft, for Everyone This Time, 125
PART FIVE. HELP THE DEVELOPING WORLD
13. Globalization - With Savvy and Feeling, 137
14. Humanitarian Armed Intervention: No More Rwandas!, 149
15. Tough on Terrorism -- and Tough on the Causes of Terrorism, 161
PART SIX. BE A PLAYER, NOT A REBEL
16. You Can Have a Career and Be Political, Too, 175
17. Join Groups That Matter, and Push Them to the Radical Middle, 187
18. Do Some Political Spadework. Then Run for Office and Win, 197
Acknowledgements: Down at the Piccadilly, 207
Index, 211
C. Comments from 21 Authors and Activists
Cross my heart, I did not pay any of these people to say these things. I barely know most of them, and some I've never met.
////////////////////
"A stirring, thoughtful, and deeply felt manifesto for a fresh approach to public policy and public dialogue. If you're weary of the politics of hyper-polarization, this is where you belong."
-- Walter Truett Anderson, President, World Academy of Art and Science; author, All Connected Now: Life in the First Global Civilization
////////////////////
"Satin is relentless in his willingness to shake the status quo in search of what works. As a result, he gets us closer to the world we want."
-- Sam Daley-Harris, President, RESULTS: The Power to End Hunger; Director, Microcredit Summit Campaign
////////////////////
"I give this book an A+. Helps us ask the right questions to get the new answers needed."
-- Leonard Duhl, M.D., co-creator, World Health Organization's Healthy Cities Project; Professor of Public Health and Urban Planning, University of California at Berkeley
////////////////////
"In our increasingly polarized world, Radical Middle is radical indeed. It points out that the big, abstract arguments that brook no compromise may matter less than the ones of daily life -- more accountability for schools, better medical care, sensible corporate governance. . . ."
-- Esther Dyson, Chair, EDventure Holdings (global information services); author, Release 2.1
////////////////////
"If there were a Nobel Prize for thinking outside the box, Mark Satin would be so honored. Unconventional, free from ideological constraints, his probing mind opens to innovative thinking many closed doors. And he displays rare clarity and vivid writing."
-- Amitai Etzioni, Director, Communitarian Network; author, From Empire to Community
////////////////////
"The next stage in American politics has to involve the 'radical middle,' as an evolutionary step beyond the scorched-earth extremes of recent Congressional and media politics. Mark Satin builds on the growing intellectual base in this field, provided by Ted Halstead, Michael Lind, Matthew Miller, and others, with a clear and highly practical set of guidelines for more effective future policies. This book is notable for its breadth, its fair-mindedness, and its emphasis on useful next steps. Anyone frustrated by today's politics will be glad to have read it."
-- James Fallows, National Correspondent, Atlantic Monthly; former chief speechwriter, Carter White House
////////////////////
"Mark Satin is a pragmatic visionary who integrates the best of the old with the best of the new. And his book is so much fun to read!"
-- Warren Farrell, host, Warrenfarrell.com; author, Women Can't Hear What Men Don't Say
////////////////////
"Mark Satin challenges us to think deeply about how the world should be -- a skill often missing in politics and so needed in life."
-- Mike Feinstein, co-founder, Green Party of California; City Councilmember and former Mayor, Santa Monica, Calif.
////////////////////
"Put Radical Middle at the top of your must-read list. In an era of polarized politics, where politicians of every stripe drift further from the needs of real people, this book offers hope."
-- Richard Florida, principal, Creative Class Group; author, The Rise of the Creative Class
////////////////////
"There is a hunger in this country for a new kind of politics. This book gives us a map for how we might travel from the world of old-fashioned gridlock to the world of fresh thinking and new possibility."
-- Christopher Gates, President, National Civic League; Co-Chair, Saguano Seminar: Civic Engagement in America
////////////////////
"Asks the right questions, and comes up with surprising answers. . . . Sure to promote debate across the political spectrum."
-- Alisa Gravitz, Director, Co-op America; Vice President, Social Investment Forum
////////////////////
"In tone and content, Radical Middle is an antidote to the Al Frankens and Ann Coulters who dominate contemporary political discourse. . . . An intelligent and optimistic contribution to the future of American politics."
-- Ted Halstead, President, New America Foundation; co-author, The Radical Center: The Future of American Politics
////////////////////
"Mark Satin is usually insightful and important."
-- Kevin Kelly, co-founder and editor, Wired Magazine; author, New Rules for the New Economy
////////////////////
"More fresh, interesting, and challenging ideas per page than any book I have read in years."
-- Jane Mansbridge, Adams Professor, Kennedy School of Government, Harvard University; author, Beyond Adversary Democracy
////////////////////
"This is an extraordinary book. It provides a roadmap for political transformation."
-- John Marks, President, Search for Common Ground; President, European Centre for Common Ground
////////////////////
"Worthwhile effort to bypass all the ideological shouting and come up with consensus public policy solutions that most Americans can support. There are proposals here to outrage Right and Left (respectively) -- but also some that sincere people of good faith who care about their country should collaborate on."
-- John McClaughry, President, Ethan Allen Institute; former Senior Policy Advisor, Reagan White House
////////////////////
"What makes this book interesting is Satin's maverick and revolutionary background. No longer intent on destroying capitalism, he has learned to use his mind and wits to re-invent capitalism along lines that are practical, reasonable, and -- most important -- attainable."
-- Graham Molitor, Vice President, World Future Society; former chief lobbyist, General Mills, Inc.
////////////////////
"I miss Mark Satin's wise newsletter, New Options, which anticipated but was more practical than many of the New Age ideas which came in its aftermath. And I look to Radical Middle: The Politics We Need Now to update me on my missing wisdom."
-- Victor Navasky, Editorial Director and Publisher, The Nation; Delacorte Professor of Magazine Journalism, Columbia Journalism School
////////////////////
"A wake-up call that cuts through the tiresome rhetoric of left and right. . . . A voice that's as a clear as a summer's day, a mind that's extraordinarily well-informed, and a quality of judgment that is nothing short of wise."
-- James Ogilvy, co-founder, Global Business Network; author, Creating Better Futures
////////////////////
"A provocative contribution to the movement toward a Radical Middle. As a charter member of that movement, I welcome it."
-- Charles Peters, founding editor, Washington Monthly; author, How Washington Really Works
////////////////////
"An utterly pragmatic, yet innovative and idealistic, agenda for positive social change. Gets past the dismalness of today's politics with great examples of what works. . . . Frankly, the only thing 'radical' about this well-written book is that it's more about real change than about political hatred or puffery -- more for involved citizens than for political junkies -- and more for people who really care about the future than for the merely power-obsessed inside the beltway."
-- Paul Ray, author, New Political Compass (PDF document); co-author, The Cultural Creatives
////////////////////
D. The "Radical Middle 100": Groups Mentioned in the Text
Nothing can better convey the scope and sweep of Radical Middle: The Politics We Need Now than our list of 100 organizations whose work or ideas made their way into the text.
For the list (and for links to each group!), just click HERE
////////////////////
E. Preface to Book
For Preface ("Ignore the Noise"), just click HERE
////////////////////
F. Author's Publicity Schedule
For times & dates, just click HERE
////////////////////
G. Press Clips & Blog Snips
For media mentions, just click HERE
////////////////////
H. Also Relevant
Prior Books By Author:
-- New Options for America (1991)
-- New Age Politics (1979, orig. 1976)
-- Manual for Draft-Age Immigrants to Canada (1968)
////////////////////
I. And Special Thanks To
James Levine (literary agent)
Perseus Books Group (publisher)
-- Rebecca Marks, project editor
-- Gregory Houle, publicity, March - July 2004
-- Paul Gilbert, publicity, August 2004 - July 2005
Westview Press (imprint)
-- Jill Rothenberg, developmental editor
-- Wendy Halitzer, cover design
-- Cathleen Tetro, marketing
Norman MacAfee (copy editor)
Donna Riggs (indexer)