"[E]xcellentky written. .... If a [draft] resister had an doubts about going to Canada before [reading] the book, he seldom had any after finishing tt. ... By mid-1968 [it] had become the first entirely Canadian-published best seller in the United States."
-- Roger Neville Williams, The New Exiles, Liveright, 1970
Manual for Draft-Age Immigrants to Canada
by Mark Satin
In 1967, as lead draft counselor for the Toronto Anti-Draft Programme (TADP), I conceived and wrote (and edited guest chapters for) a book that became an immediate "underground bestseller": Manual for Draft Age Immigrants to Canada (Toronto, Jan. 1968; 2nd ed., House of Anansi Press, March 1968; four subsequent editions, 1968-71). I was 21 years old, had been "bred in at least modest comfort" in Moorhead MN and Wichita Falls TX, and was wanted in the U.S. for draft evasion.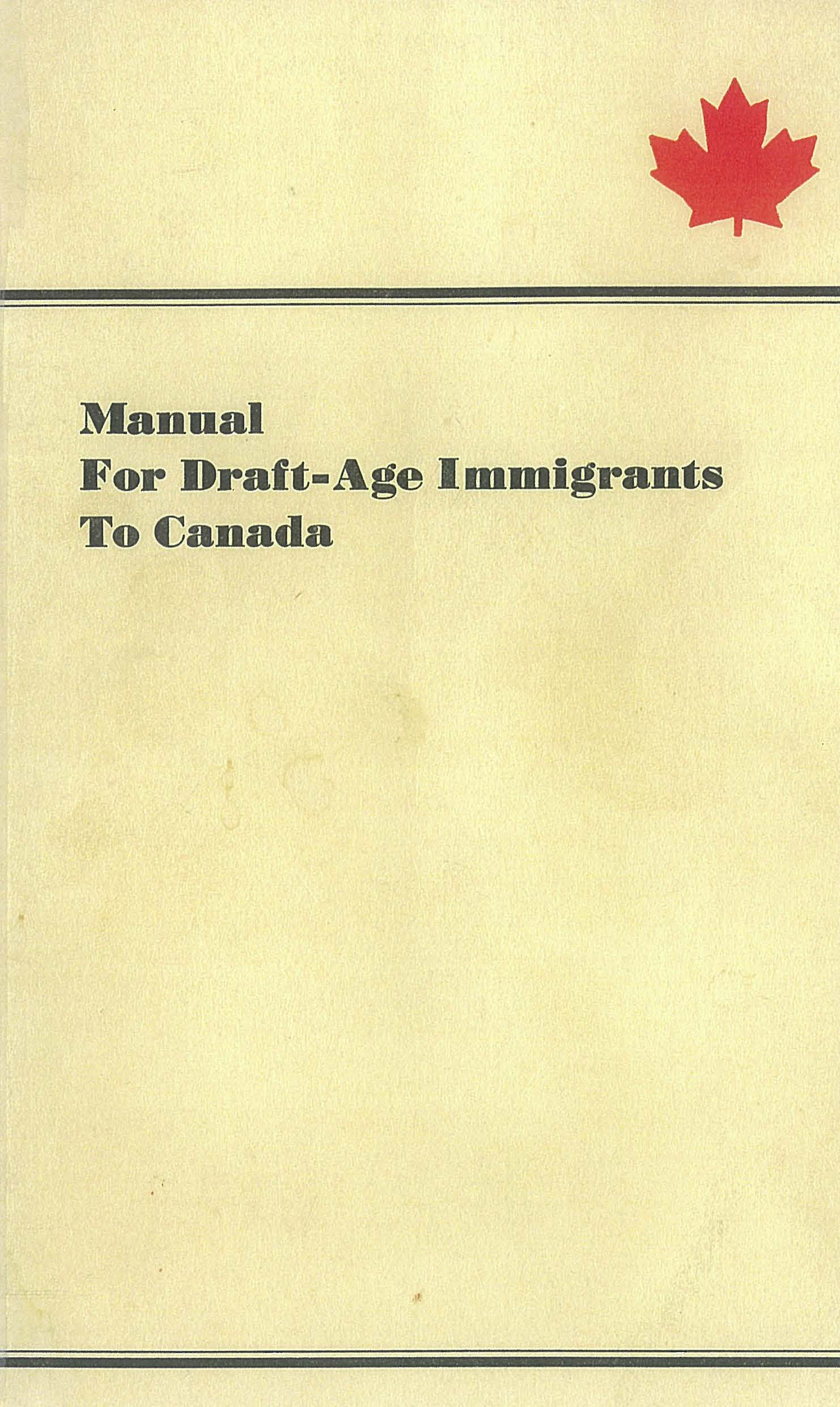 I wasn't thrilled about becoming a draft dodger. I'd planned on doing something really constructive with my life in the country I loved, the USA: I'd planned on becoming an American historian in the tradition of Charles and Mary Beard and V.L. Parrington. But it was inconceivable to me -- I mean, not even an option -- that I would answer my country's call to go off and try to kill, maim, and intimidate Vietnamese for no good reason (except to maintain one's own careerist "viability," as the young Bill Clinton put it).
Even in 1965-66, it was obvious to anyone who made some sincere effort to look into the situation that the Vietnam war was flagrantly unjust and not in America's true interests, and it was also obvious what the stand-up (i.e., non-Clintonesque) alternatives were: jail or Canada. I chose Canada because I thought I could do more good working against the war machine from Toronto than I could rotting in the federal penitentiary in Texarkana. And work against the war machine is exactly what I did!
[Note to those who've e-mailed me through this website calling me a coward or worse: In 1965, as a civil rights worker in Holly Springs, Mississippi, I'd already been shot at and been in two other life-threatening situations -- and hardly gave any of those situations a second thought. The great tension between me and the members of my civil rights group was I wanted to try organizing students at the segregated white high school in Holly Springs! Like many naive young males from places like Moorhead and Wichita Falls, I basically felt invulnerable, which is why we're such great Army fodder.]
I wrote the Manual in consultation with many other draft counselors across North America -- to this day the bravest, most generous, and altogether most wonderful karass I've ever known. (The best argument for cloning is it could bring back some facsimile of fabled Los Angeles civil rights and military draft lawyer William G. Smith, who traveled to Toronto with his girlfriend in 1967 to look over the manuscript and buck up my spirits a couple of weeks after my parents attacked me in the pages of the Ladies' Home Journal. He died August 2, 1999, and it's to him I dedicate this web page.)
The Manual sold 65,000 copies by mail from Toronto, largely to young men and women in the good ol' USA, at a time when it was illegal for Canadian publishers to sell more than 1,500 copies of any one title in the U.S. In addition, tens of thousands of "pirated" copies (often abridged and mimeographed) were produced in the U.S., usually by draft counseling groups or other radical groups and basically with our blessing.
The U.S. press was, unwittingly, the Manual's best publicist. The U.S. press was very different in 1967-68 than it is today (if you think today's press is conservative, just go back and sample U.S. newspapers from the Sixties!). So after the Manual was published, there were endless attacks on and loathsome references to it in the U.S. media -- beginning, of course, with an attack in the New York Times, referenced below ("a major bid to encourage Americans to evade military conscription"). As a result, millions of guys knew where to write for information about emigration as an alternative to their legal obligation to slaughter politically incorrect Vietnamese and their families and neighbors.
The Manual got around. In his book Northern Passage (cited below), Northwestern University sociologist John Hagan says "more than a third" of his sample of Vietnam-war-motivated U.S. immigrants to Canada had read the Manual while still in the U.S. The intrepid Joseph Jones (cited below) identified five novels that "include the Manual as a significant 'character'" -- Morton Redner's Getting Out (1971), Daniel Peters's Border Crossings (1978), Valerie Miner's Movement (1982), John Irving's A Prayer for Owen Meany (1989), and Mordecai Richler's Barney's Version (1997). He has since identified a sixth, Ray Robertson's Moody Food (2002).
I recently discovered two delightful Manual-related photos on the web. Prominent photographer John Phillips (one of my first Toronto counselees!) has posted a photo of volunteers assembling the Manual HERE. It perfectly captures the feel of The Movement circa 1968 . . . made even me miss it. And Yale-trained artist Gareth Long, born in 1979 -- four years after the Vietnam War ended -- has created a multimedia artwork replacing certain subtitles in Oliver Stone's film Platoon with text from the Manual; see it in living color HERE.
What you'll find on this web page is (1) the Table of Contents of the Manual; (2) the complete text of the first part of the introductory chapter [with some bracketed contemporary comments by M.S.]; and (3) a list of references for more information, many taken from Joseph Jones's article listed there (Jones is an American emigrant who worked for many years as a reference librarian at the Koerner Library of the University of British Columbia, my alma mater).
Used copies of the Manual are now available through a number of online used booksellers (e.g., www.abebooks.com, www.alibris.com, www.bookfinder.com, and http://used.addall.com). If you go to those websites, search for the Manual by title, not by author's name. I was purged from TADP in May 1968, basically for not letting the Marxists and hyper-Canadian nationalists on the TADP Board water down our Herculean efforts to help Americans emigrate and flourish (the Marxists wanted most war resisters to stay in the U.S. and make The Revolution; the Canada-firsters were ambivalent about the influx of "pushy," "arrogant," "hard-to-assimilate" Americans) -- and after I was purged, the Left performed what became in the 20th century one of its signature ritual acts: It removed my name from the byline of all future editions of the Manual. Eventually it put another person's name there. My name is on the first and second editions.
FYI, the second edition was by all accounts the best of the Manuals -- the least politicized, the most exuberant, even the handsomest -- and it was the largest single edition, with a print run of 20,000. It's the second edition that I share with you here, that and a piece of my life.
The Manual's Table of Contents
Preface: Words from Canadians
-- Vincent Kelly, Barrister and Solicitor
-- Robert D. Katz, Canada Dept. of Manpower and Immigration
-- Prof. William E. Mann, York University
-- Heather Dean, Student Union for Peace Action
-- Rev. Roy G. DeMarsh, United Church of Canada
1. Introduction . . . this is your handbook
PART ONE: APPLYING
2. Landed Immigrant Status . . . immigrant status is your goal
3. Visitor Status . . . but you can come in as a visitor
4. Student Status . . . or as a student
5. The New Regulations . . . new laws were passed in 1967
6. The Unit System . . . making immigration a more objective process
7. The Application Form . . . there is one application form
8. Applying at the Border . . . you can apply at the border
9, Applying from Within . . . from within Canada
10. Applying by Mail . . . by mail from the U.S.
11. Applying at a Consulate . . . at a consulate
12. Applying Through a Relative . . . or by nomination
13. Reapplying . . . if at first you don't succeed, try again
14. Extradition . . . try not to get kicked out
15. Deportation . . . or sent back
16. Prohibited Classes . . . these can't try at all
17. Mobility . . . you'll be free to travel
18. Renouncing Citizenship . . . and maybe you want to go back
19. From Immigrant to Citizen . . . but plan on staying
20. Customs . . . there's a little red tape involved
21. Addresses . . . but plenty of people can help you
22. Literature . . . in writing
23. Canadian Groups . . . in Canada
24. U.S. Groups . . . and in the U.S. too
25. Questions . . . let us hear from you
PART TWO: CANADA
26. History (by Kenneth McNaught) . . . yes, John, there is a Canada
27. Politics (by Heather Dean) . . . it has politics
28. Culture (by J.M.S. Careless) . . . culture
29. Cities (by Douglas Myers) . . . cities
30. Geography and Climate . . . and snow
31. Living Conditions and Costs . . . it's a good country
32. Jobs (by Robert D. Katz) . . . jobs are available
33. Housing (by Robert D. Katz) . . . and so is housing
34. The University Scene (by James Laxer) . . . the schools are pretty good
35. Universities and Colleges . . . and all of them different
36. A History of Draft Resistance in Canada (by Elliot Rose) . . . you're not the first
37. Current Resisters (by Robert Akakia) . . . but you may be unique
38. Canadians on Resisters (by Max Allen) . . . and Canadians are interested
39. Newspapers and Magazines . . . you can find out more
40. For Further Reading (suggestions from W.D. Godfrey and Peggy Morton) . . . in books
APPENDIX
A. Excerpts from the Canadian Extradition Treaty
B. Occupations in Strong National Demand
The Manual's Introduction: "this is your handbook"
Slowly at first, and now in growing numbers, from Maine to Alabama to California, from ghettos, suburbs and schools, young Americans are coming to Canada to resist the draft. [I must have spent the equivalent of a week polishing that first paragraph! - M.S.]
There is no draft in Canada. The last time they tried it was World War Two, when tens of thousands of Canadians refused to register. Faded "Oppose Conscription" signs can still be seen along the Toronto waterfront. The mayor of Montreal was jailed for urging Canadians to resist -- and was re-elected from jail. No one expects a draft again. [Most of that paragraph was written by Heather Dean, an incandescent high-profile Canadian feminist and radical activist who refused all invitations to "sell out" and go to work for The System. Or at least, that's how I saw it at the tender age of 20 - M.S.]
It's a different country, Canada.
"I didn't know where to begin. The Consulate tried to discourage me. I think they were prejudiced. The peace groups didn't know much. The hardest thing about immigrating is finding out how. . . ."
This is a handbook for draft resisters who have chosen to immigrate to Canada. Read it carefully, from cover to cover, and you will know how. It was written by Canada's major anti-draft programmes and their lawyers. [Such a diplomat I was at the age of 21! - M.S.] Part One goes through the immigration process step by step. If you are still unclear, or face special difficulties that are not covered here [this was a necessarily veiled reference to deserters - M.S.], make sure to write. Or come in as a visitor and get help and advice.
Immigration is not the best choice for everyone and this pamphlet does not take sides. Four other alternatives are open to draft-age Americans: deferment, C.O. [conscientious objector] status, jail or the armed forces. The groups listed in Chapter 24 can help you choose among these alternatives or fight the Selective Service system as long as possible. Canada is not an easy way out; in many cases it means cutting yourself off from parents and friends. But there are many reasons draft resisters have chosen Canada -- as many reasons as Americans. What these Americans are like is described at the end of Part Two.
"I thought I'd be chased out by the cops. Kidnapped! Or extradited. Or deported. Or something. . . ."
Canada has not "opened its borders" to young Americans. There is no political asylum. But an American's possible military obligations are not a factor in the decision to permit him to enter and remain. FBI agents on official business are barred from Canada. Most other Americans are welcome, unless they fall into one of the "prohibited classes" (see Chapter 16).
On April 12, 1967 [U.S.] General Mark Clark asked the Canadian Embassy in Washington to help return all the "draft dodgers." He was told that it would not be possible. Canada's extradition treaty with the U.S. lists the extraditable offenses one by one (see Appendix A); resisting the draft is not among them.
Americans can enter Canada as immigrants, visitors or students (see Chapters 2-4) at any point in their induction proceedings.
"Well, you know, I can hardly believe this. I like it here. I thought Canada was the end of the world. Inferior schools. Inferior jobs. Igloos and log cabins everywhere. . . ."
You do not leave civilization behind when you cross the border. (In fact, many Canadians would claim that you enter it.) Part Two will tell you about Canada. We have not tried to sell you on Canada -- our chapter on climate is chilling -- but the truth is that Canada is a nice place to be. There is little discrimination by Canadians against draft resisters, and there is a surprising amount of sympathy. Most Americans lead the same lives in Canada they would have led in the U.S. Americans who immigrate are not just rejecting one society; they are adopting another. Is it really freer? Most draft resisters -- and most Canadians -- think so. [The Board I was responsible to was adamant that I NOT "encourage" Americans to immigrate. But as you can tell, I straddled the line as much as possible! - M.S.]
"But I can't go back home again, ever."
That's right. It can not be overstressed that draft resisters will probably never be able to return to the U.S. without risking arrest. This applies even to family emergencies. When a draft resister's father died last summer, two FBI agents showed up at the funeral.
Draft resisters have had and should continue to have only normal difficulties immigrating. Probably any young American can get in if he is really determined, though all will need adequate information and many may need personal counselling [this seemingly redundant sentence was another necessarily veiled attempt to reach military deserters - M.S.]. We cannot emphasize too much that people should send us their questions or visit before they immigrate (see Chapter 25).
Finally, the toughest problem a draft resister faces is not how to immigrate but whether he really wants to. And only you can answer that. For yourself.
That's what Nuremberg was all about.
[end of Manual excerpt]
Like, almost 40 years later ....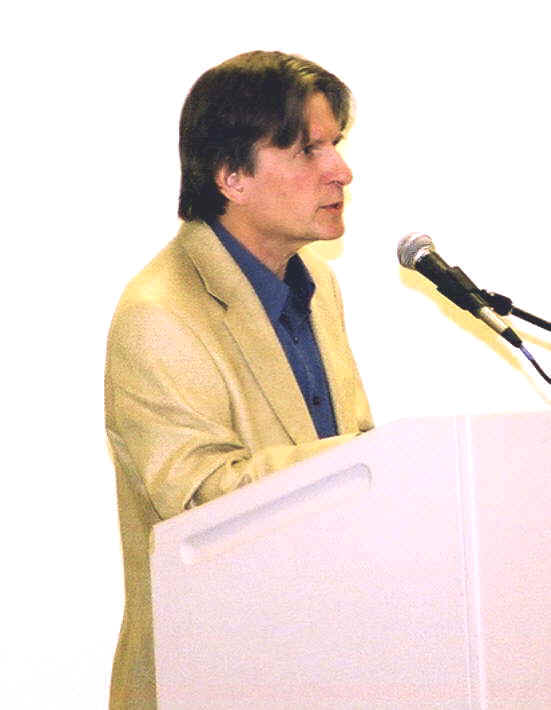 Here I am giving a talk on my just-published book Radical Middle: The Politics We Need Now at the Fall for the Book Festival near Washington, DC in September, 2004 (photo courtesy Penny H. Gilchrist). At one point, I looked out at the audience and had the bizarre sensation that I was still a draft dodger, still imploring my listeners to pay close attention to the real effects their actions (or non-actions) were having in the world.
For more information about the Manual
Amazon.com, Manual for Draft-Age Immigrants to Canada
Pierre Berton, 1967: The Last Good Year (Doubleday Canada, 1997)
John Burns, "Canadians Don't Live in Igloos, Draft Dodgers' Manual Advises," Toronto Globe and Mail (Feb. 15, 1968), p. 1
Edward Cowan, "Expatriate Draft Evaders Prepare Manual on How to Immigrate to Canada," New York Times (Feb. 11, 1968), p. 7
John Hagan, Northern Passage: American Vietnam War Resisters in Canada (Harvard University Press, 2001)
Joseph Jones, "The House of Anansi's Singular Bestseller," Canadian Notes & Queries (Spring-Summer 2002), p. 19
Joseph Jones, Vietnam War Resisters in Canada: A Guide to Web Sites
Renee Kasinsky, Refugees from Militarism: Draft-Age Americans in Canada (Transaction Books, 1976)
Myra MacPherson, Long Time Passing: Vietnam and the Haunted Generation (Doubleday, 1984)
Roy MacSkimming, Making Literary History: House of Anansi Press 1967-1997 (Canada: House of Anansi, 1997)
Roger Neville Williams, The New Exiles: American War Resisters in Canada (Liveright, 1971)
[Encore, from 2005]
Came upon this in May 2005. It is from Jules Witcover's book The Year the Dream Died: Revisiting 1968 in America (Warner Books, 1997):
"Other young Americans of draft age, including many who had been active in the civil rights movement, fled to Canada, where large communities of them formed in Toronto and other cities and often worked in the antiwar movement. . . .
"A twenty-year-old from Wichita Falls, Texas, named Mark Satin made a typical observation when I encountered him one day at the Toronto [Anti-Draft Programme] office: "I feel as though a great weight has been lifted from my shoulders. It's colder here, but you feel warm because you know you're not trying to kill people."