ABOUT THE NEWS- LETTER
ARCHIVES:
Access All Mark Satin Articles, 2005- 2009
Access All Mark Satin Articles, 1999- 2004
Access John Avlon Archive, 2004-2006
RADICAL MIDDLE, THE BOOK:
OUR CONGRES- SIONAL SCORECARDS:
109th and 110th Congresses (2005-08)
OUR POLITICAL BOOK AWARD WINNERS:
RESPONSES FROM OTHERS:
Feisty E-mails to the Editor, 2008 - 2009
Feisty E-mails to the Editor, 2007
Feisty E-mails to the Editor, 2006
Feisty E-mails to the Editor, 2005
Feisty Letters to the Editor, 2002-04
Feisty Letters to the Editor, 1999-2001
WHO WE ARE:
About the Editor (In-House Version)
About the Editor (By Marilyn Ferguson)
About Our Sponsor, the Center for Visionary Law
"Mark Satin ... threw himself obsessively into a [draft counseling] job at [the Student Union for Peace Action in Toronto], working seven days a week, from nine each morning often to midnight. Out o this grew the Toronto Anti-Draft Programme."
-- Pierre Berton, 1967: The Lastr Good Year, Doubleday Canada, 1997
Toronto Anti-Draft Programme:
Where the Guys Who Said "No!" Came for Help
The following was the Toronto Anti-Draft Programme's description of itself on the back cover of its principal publication, Mark Satin, ed., Manual for Draft-Age Immigrants to Canada (Toronto: House of Anansi Press, 2nd ed., March 1968). Obviously, the addresses and phone numbers at the bottom of the description are no longer valid! - M.S.
Toronto Anti-Draft Programme SELF-DESCRIPTION, FRIOM THE MARCH 1968 MANUAL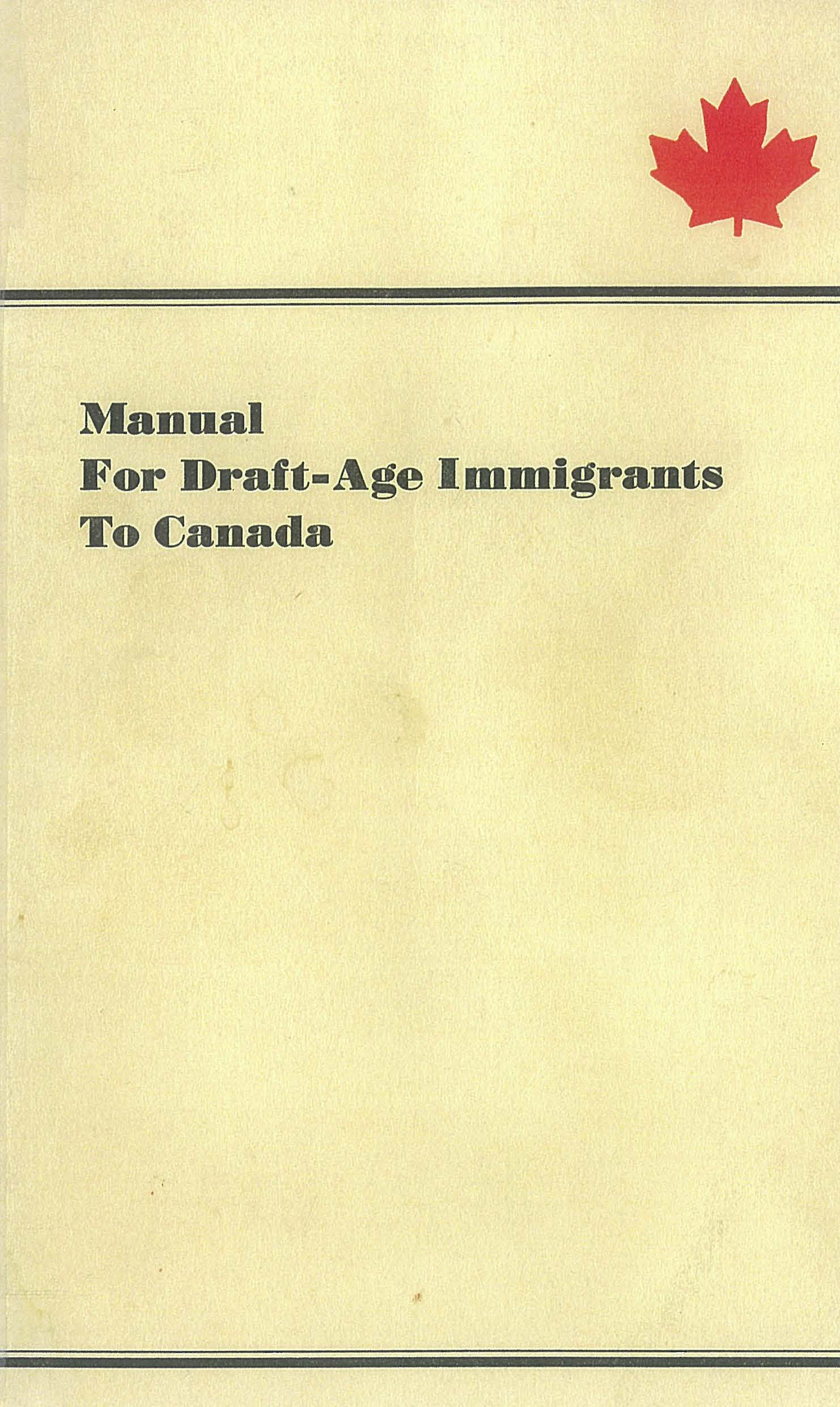 The Toronto Anti-Draft Programme is the largest group in Canada helping young American immigrants who refuse to fight against Viet Nam.
The Programme works closely with the Vancouver Committee to Aid American War Objectors in providing legal research and information to the other Canadian aid groups (there are 26) and is in contact with 2,200 draft counsellors in the U.S., providing background information, reporting changes in immigration practice, and verifying or denying the ever-present rumours.
In 1965, the Vancouver Committee first published a fact sheet on immigration which was widely distributed by the Student Union for Peace Action, a [Canadian, Toronto-based] fraternal organization of SDS. Soon inquiries from Americans were occupying one SUPA staff member full-time, and an American war immigrant was hired to direct the counselling services. By 1968 we were receiving 100 letters and 17 visitors a day. The Programme is now run independently by a staff of six.
Trained counsellors are available seven days a week to advise people planning to immigrate, and this is our major function. But the Programme also helps immigrants once they arrive in Canada.
We have two hostels to provide temporary lodging and nearly 200 Torontonians have offered to house draft resisters temporarily. Our American Immigrants Employment Service has a full-time counsellor to help find job offers for applicants and jobs for landed immigrants. And there is a small loan fund for immigrants who experience special difficulty and have no place else to turn. Several Toronto lawyers have offered to advise immigrants with special legal problems.
The Programme is assisted by dozens of volunteers, both new immigrants and Canadians. Church groups and the faculty of the University of Toronto have been especially valuable sources of assistance and support. Financially, approximately half our support comes from sympathetic Canadians and half from Americans we have helped. Contributions are welcomed -- and needed.
mailing address: P.O. Box 764, Adelaide Street Station, Toronto 2B
street address: 2279 Yonge Street, Suite 15, Toronto 12
telephone number: (416) 481-0241; employment service, 921-1926
[end of description]
A STILL LARGELY SUPPRESSED PART OF AMERICAN HISTORY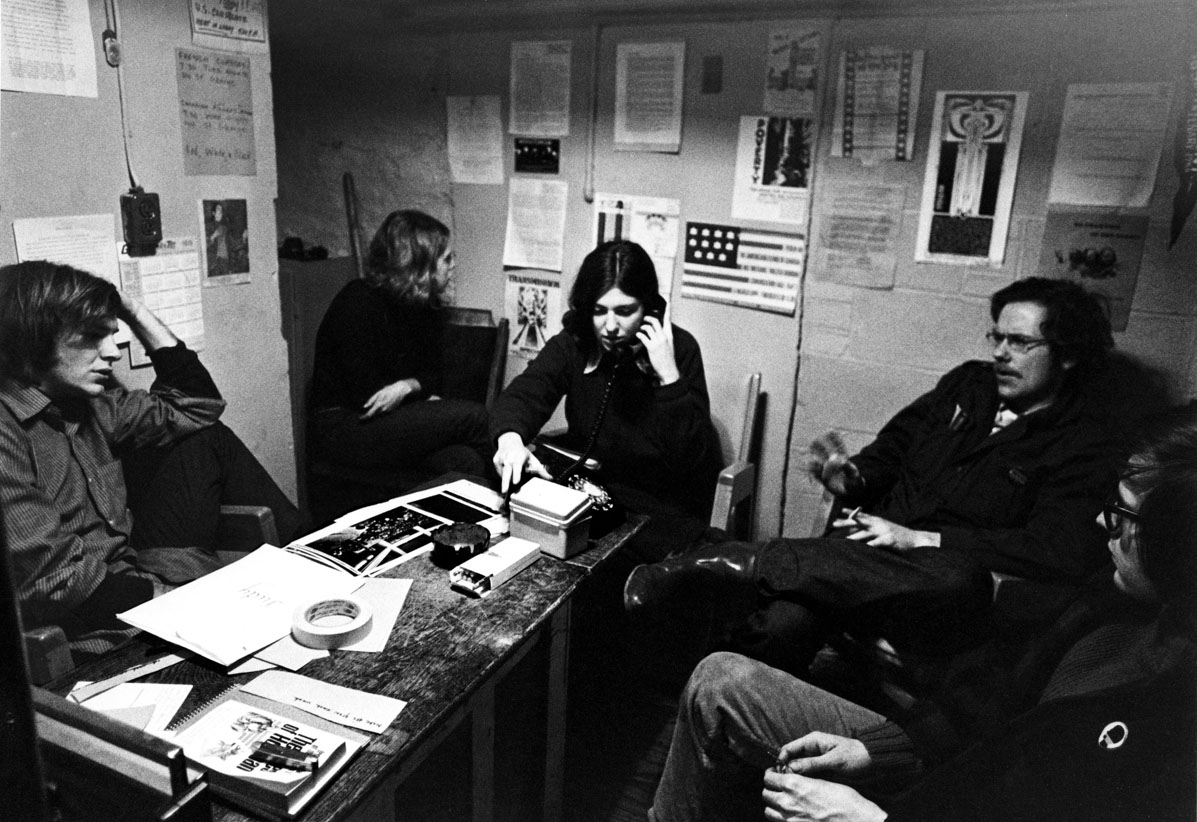 Here I am, uncharacteristically on the far left (cf. my New Age Politics, 1976), counseling American war resisters at our offices on Spadina Avenue in Toronto in August 1967. The front room was so crowded at the time that the counseling session here is taking place in one of the small side rooms. I was 20 years old.
It is now estimated that approx. 50,000 young American men and women legally emigrated to Canada during the Vietnam War - and based on my "frontline" experience, I am certain that for every one of us that emigrated, dozens more were seriously thinking about it. I can also testify that most of those folks were bright, skilled, educated, ambitious, deeply principled, or all the above - in other words, we were a significant chunk of America's future. That's why I believe that coming to Canada (or even talking about coming to Canada with friends and family) helped stop the killing and helped end the war. - M.S.
For more information about TADP
Amazon.com, Manual for Draft-Age Immigrants to Canada
Pierre Berton, 1967: The Last Good Year (Doubleday Canada, 1997)
John Burns, "Deaf to the Draft: Called in U.S., But Asleep in Toronto," Toronto Globe & Mail (Oct. 11, 1967), p. 1
Oliver Clausen, "Boys Without a Country," New York Times Magazine (May 21, 1967), p. 25
Anastasia Erland, "Mark Satin, Draft Dodger," Saturday Night Magazine [Canada] (September 1967), cover story, p. 21
John Hagan, Northern Passage: American Vietnam War Resisters in Canada (Harvard University Press, 2001)
Lynda Hurst, "A Picture and a Thousand Words," Toronto Star (August 24, 2008) [retrospective on my journey from draft dodger leader to Radical Middle editor]
Joseph Jones, "The House of Anansi's Singular Bestseller," Canadian Notes & Queries (Spring-Summer 2002), p. 19
Joseph Jones, Vietnam War Resisters in Canada: A Guide to Web Sites
Renee Kasinsky, Refugees From Militarism: Draft-Age Americans in Canada (Transaction Books, 1976)
Dan Wakefield, Supernation at Peace and War (Little, Brown, 1968)
Roger Neville Williams, The New Exiles: American War Resisters in Canada (Liveright, 1971)
ABOUT THE RADICAL MIDDLE CONCEPT
50 Thinkers and Activists DESCRIBE the Radical Middle
50 Best Radical Middle BOOKS of the '00s
GREAT RADICAL MIDDLE GROUPS AND BLOGS:
Over 250 Great Radical Centrist GROUPS and Organizations
25 Great Radical Centrist BLOGS
RADICAL MIDDLE INITIATIVES:
Generational Equity and Communitarian platforms,1990s
U.S. Green Party's "Ten Key Values" statement, 1980s
SOME PRIOR WRITINGS BY MARK SATIN:
New Options Newsletter, 1984-1992
New Age Politics: Healing Self and Society, 1976
OTHER
PRIOR RADICAL MIDDLE TEXTS:
50 Best "Third Way" Books of the 1990s
25 Best "Transformational" Books of the 1980s
25 Best "New Age Politics" Books of the 1970s
NOT JUST RADICAL MIDDLE:
50 Current Political IDEOLOGIES
50 Current Political MANIFESTOS